Digital Media and Design
Bangkok University International
BUI International Programs
Degree Title
Bachelor of Arts Program in Creative Communication Design
အထူးပြု Major
Digital Media and Design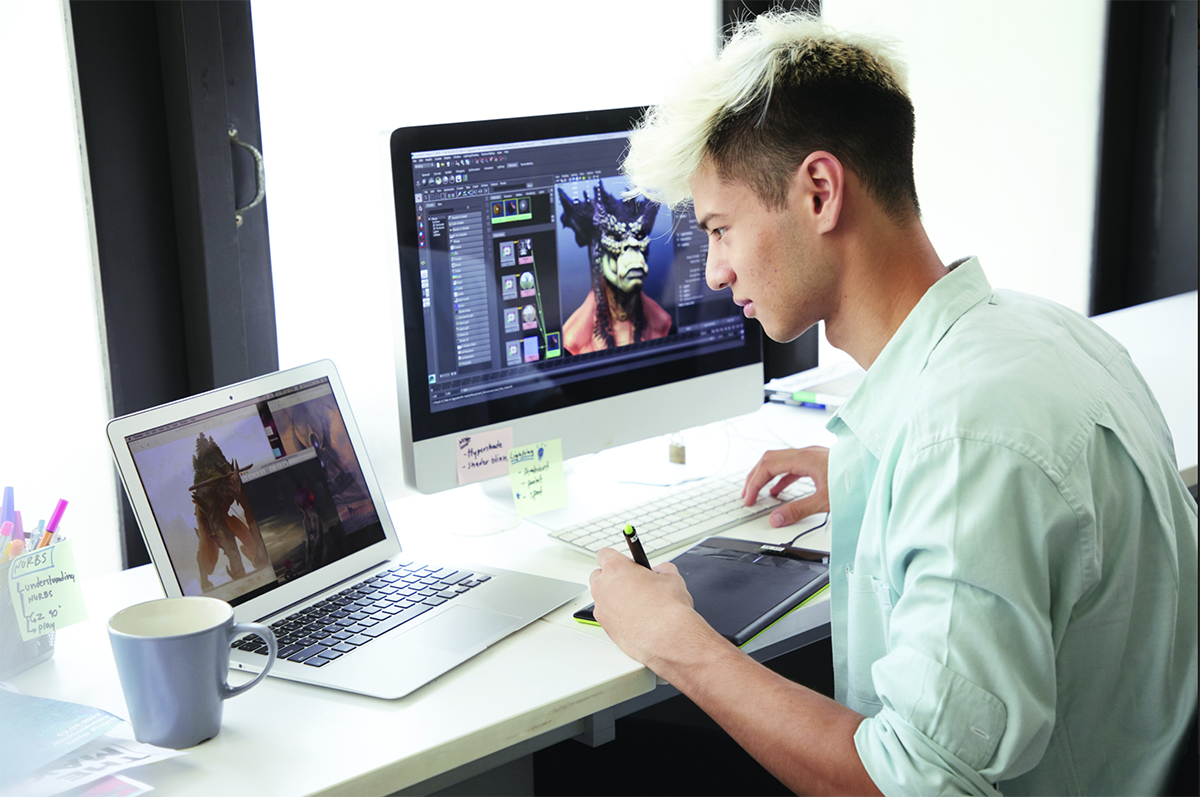 Show off your originality !
Speak to the World !
ဘာကြောင့်
BUI မှာ ပညာ သင်ကြားသင့်သည်လဲ
Be ready to step up into the expertise in design, in the world of tomorrow, with "Digital Media and Design".
BUI international program aims to develop a personal practice through specialized fields such as Graphic Design, Animation & Moving Images, and Interactive Media.
BUI Students will also be prepared with all the basics of design that are needed in present.
Moreover, there are opportunities that BUI provide as well, such as; exclusive visiting at the design company, art exhibition, special guest speaker, exclusive workshop and real project with the private sector, etc.
Besides this, BUI also provides opportunities for connecting and offering "Dual Degree Programs", with potential partnering university, "Middlesex University London".
So, students can graduate with 2 diplomas.
ဘာကြောင့်
BUI ၏
Digital Media and Design ကို
သင်ကြားသင့်သည်လဲ
Bachelor of Arts Program in Creative Communication Design provides the creative and technical skills for students to work within the growing need for digital media and design industry.
Taught by working professionals each semester, students will learn the most advanced digital applications and develop the personal and professional skills required to succeed as digital media designer.
After graduation, students will be equipped with skills to work within the following occupations: graphic designer, 3d animator/modeler, visual effects designer, motion graphics designer, interactive media designers, photographer, video producer, etc.
The program develops advanced skills and technical competency in drawing, illustration, graphic design, color and computer applications.
Students become professionals in the field of design media arts using the latest technologies, tools and software in the most advanced computer lab.
အလုပ်အကိုင်
အခွင့်အလမ်းကောင်းများ
Web Designer
Social Media Coordinator or Designer
Marketing Professional
Animation Designer
Graphic Designer
Digital Media Designer
ပိုမို သိရှိစေရန်
https://www.bu.ac.th/en/international-programs/digital-media-design
Let's get started and apply now !
Thank you for choosing Care Forever !